Porterfield's History
Porterfield's was founded in 1965 by Brooke and Virginia Porterfield along with son David (who was 16 at the time-just old enough to drive the delivery truck!).  The original store was at 2607 SW 21st where it remained until the early 1980′s when David purchased the store from his parents and moved it to its current location at Huntoon and Oakley in the Westboro Mart.  Since its inception, Porterfield's has been a bellwether of classic floral design with an original flair.  The store has been involved in many momentous events in Topeka and Kansas history, including inaugurals and other State events,  presidential visits and services for local dignitaries.  Porterfield's has not only been chosen as Topeka's best florist many times, it is also the only local florist and one of the very few Kansas florists to be selected as a member of Fine Flowers, the country's listing of premier florists.
Meet the staff
David Porterfield, Owner - david@porterfieldsflowers.com
David has spent his entire professional life doing what he loves at Porterfield's.  A Topekan by birth and choice, he attended Topeka public schools and graduated from Washburn with a BA in English.  Locally, he has been an active citizen, including stints as president of the Mulvane Art Museum, the Mt. Hope Cemetery board, and the historic Jayhawk Theatre board among his many civic activities.  He is a long-time active member of Grace Episcopal Cathedral where he has served as a vestryman and currently is a ceremonial verger.  Professionally, he has served as president of the Kansas State Florists Association and has twice been on the national Board of Directors of the American Institute of Floral Designers.  He was a selected designer for President Reagan's second inaugural, the bicentennial celebration for the Statue of Liberty and the dedication of the horticulture wing of the Smithsonian Institution.  He has been invited to lecture at the New York Botanical Gardens, the San Francisco Garden Club, the American Institute of Floral Designers National Symposium as well as many other venues for both public and professional audiences.
Mark Lamantia, Co-Owner - mark@porterfieldsflowers.com
Mark began his career with Porterfield's in March, 1973, while a Washburn student looking for a little extra spending money.  He evolved from delivery driver to tropical plant caretaker and designer to floral designer and silk design specialist.  Today, he is glad to fill any of those roles.  Mark's talents are noted throughout the community as a meticulous and highly creative individual. Mark also served as a floral design instructor at Kaw Area Vocational Technical School. In addition to managing and designing for many aspects of the business, he does much of the silk flower, giftware and seasonal decor buying.
Patrick Wages, Design Director - patrick@porterfieldsflowers.com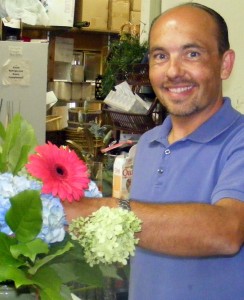 Patrick's responsibilities are many, as regular customers are well aware.  He buys virtually all of the fresh product used daily at Porterfield's.  This is in itself a huge task, as literally thousands of blooms are used weekly, and top quality and freshness are never negotiable.  In addition, Patrick insures that every design that leaves the store is impeccably done with beautiful product.  He also consults regularly with brides and event planners to produce some of  Topeka's  most memorable occasions.  Patrick  joined Porterfield's (as a data-entry person from a temp agency!!) in March, 1995.   One day shortly thereafter, he walked up to a design table in the workroom and announced that he was capable of designing.  After showing the staff a sampling of his skills, he was quickly moved from the office to the design room as a full-time employee.  We have yet to meet anyone with as much natural ability in this field as Patrick.
Mandi Walter, Manager - mandi@porterfieldsflowers.com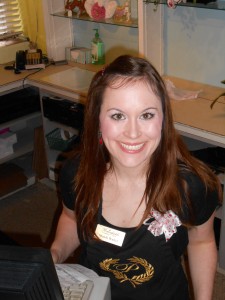 Mandi holds a special place in the hearts of her co-workers at Porterfield's.  She came to us as a 15-year-old with high-voltage energy and an amazing work ethic.  She continued part-time through high school and much of Washburn, from which she graduated with a BBA in Marketing and Management in 2009.  Following graduation, she left us for a while to enhance her marketing skills with M.B.Piland, a noted Topeka ad agency.  This summer,  Mandi returned to us, serving as office manager as well as marketing director.  If you receive our e-mail newsletter, you understand why we are so thrilled to have her back with us.  In addition to the newsletter and managing our emails and Facebook page, Mandi has finally gotten us into this century with this gorgeous new website.   Within our community, she  is currently on the Youth Entrepreneurs Kansas Advisory Council, Mulvane Art Museum Art Fair Committee, a Big Sister for Big Brothers Big Sisters and attends Chamber and Fast Forward events.
Ramona Perez, Designer
Ramona (Monie, as she is affectionately called) is the quiet powerhouse of the design room.  At the age which many of us retire, Monie attended the Kaw Area Voc Tech School to study floral design in hopes of getting a job in the field she had always loved.  Her first floral employment was at Lardner's at 10th and Oakley while they still offered fresh and silk flowers.  When the floral department closed, they called and asked if there was any inventory we could use, so David made a quick trip.  Upon seeing the work Ramona had done, he declined the inventory, but hired her instead.  That fateful day in the fall of 1990 was the beginning of a long , loving and prosperous relationship that continues to this day.  Monie's skills fit perfectly within Porterfield's style-a blend of the romantically beautiful and a lush sensibility.  She is as masterfully adept at a huge church piece (which are often larger than she is) as something appropriate for a hospital room.  Ramona thoughtfully and beautifully creates each piece for the intended recipient.
Porter, The House Feline
For those who don't know, Porter came to us by way of the back door about 12 years ago and has called 3101 home since that lucky day.  Like many of us, he was an alley cat before he became refined.   His name was the doing of the design staff who felt that as a namesake, it would be difficult for David to banish him from the premises. Their ploy worked and we are all so glad to have him as a member of our team.  This cat definitely earns his keep by charming children into insisting that their unsuspecting parents bring them in for a visit.  He truly loves children and comes to the front when he hears their voices.  He is patient and kind with his fans–almost like he understands his job!  People often ask if he bothers anything in the store and the answer is no.  He once knocked a vase off of the delivery table that was being re-packed to send to a vendor because it was damaged in shipment.  So he broke a broken vase–that's it!  He doesn't eat the plants, climb Christmas trees or do any other destruction, either.  He does like to sleep in and on boxes or in display windows to startle passersby.  But he is very bad when he hides under skirted tables and grabs customers legs as they shop.  And one time he got on Dr. O'Neil's car hood and rode all the way to Pembroke Lane with him, but all in all Porter has been a perfect fit for us and we love him dearly.   However, we are glad to share him with his many friends.
News Flash:  Last week, Porter caught a lizard which had come to visit via a tropical plant shipment.  David rescued it and set free in the grassy area behind the store. Lizards seem more endearing than mice.
In addition to the staff listed above, Porterfield's is truly fortunate to have a cadre of involved people who have helped us  through this difficult financial time.  In the office, Robyn Lipscomb and Nancy Alexander have come as needed to help keep the books in order, while the front room and telephone sales team includes Margaret Carkhuff, Cheryl McCrite, Katie Shanks and Bobbi Showalter.  We are truly grateful to them for the patience and understanding needed to help on an as-needed basis.